Choosing the Right Data Cable for Your iPhone
Every iPhone user has faced this conundrum: selecting the right data cable. Despite Apple's original charging cable boasting a sleek design and superior feel, its durability raises eyebrows. Many users report rapid wear and tear, often seeing the cable deteriorate within a year. This prompts the question – is it time to buy a new cable? And if so, why not opt for Apple's original despite its high price tag? Simply put, its quality doesn't match its cost. This situation presents a golden opportunity for cell phone accessory producers.
What Does "MFi Certified Apple Data Cable" Mean?
Apple's iOS operates within a closed ecosystem. This means even the accessories for its devices require Apple's endorsement.
'MFi' stands for "Made for iOS". It's a certification granted by Apple to accessory manufacturers, serving as a seal of approval.
Apple accessories that receive the MFi certification must adhere to Apple's strict quality standards concerning components and manufacturing processes. Additionally, any damage resulting from using non-MFi certified accessories will not be covered under Apple's warranty. These certified cables serve dual purposes: data transfer and charging.
Why Are MFi Apple-Certified Cables Pricier?
Several reasons justify the premium cost of MFi certified products:
Quality Control: Apple imposes stringent quality controls on accessory manufacturers to ensure their products align with Apple's standards.
Certification Fee: Apple charges manufacturers a fee for MFi certification, adding to the production cost.
Upon MFi certification for a Lightning cable, Apple provides a special certification chip. This chip guarantees the cable's compatibility even after system updates. On the contrary, non-MFi certified cables might not be recognized, rendering them useless for charging or data transfer.
Furthermore, the Apple-provided chip ensures a stable output during charging, safeguarding the device. Given that Apple's warranty doesn't cover damages from non-MFi certified accessories, uncertified accessories are like unpredictable elements in Apple's ecosystem. The prestige and reliability associated with MFi certified products have grown over time, typically showcased by the MFi logo on the packaging.
For those keen to explore, Apple's official site lists all MFi certified manufacturers: MFi Certified Manufacturers.

Non-MFi Apple data cables have historically faced challenges, often becoming incompatible after system upgrades. Today, however, some data cables in the market use modified chips, allowing devices to still support charging and data transfer after upgrades. Despite this, Apple's warranty doesn't cover damages caused by using these non-official accessories.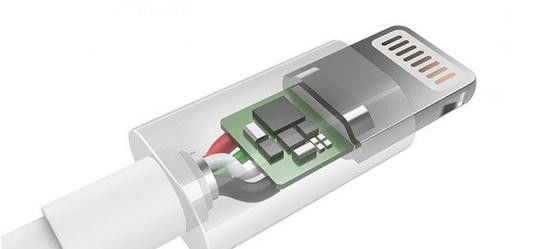 How do MFi and Non-MFi Cables Compare?
When considering the performance differences between MFi certified Apple cables and their non-MFi counterparts available today, we conducted tests on 13 data cables to draw a comparison.
Which Apple Lightning cables did we select for testing?
We're well aware that Apple's authentic data cable stands as the most reliable and official accessory. In our tests, we compared various third-party data cables with the original Apple one. The authentic Apple cable uses TPE for its outer jacket, which can be prone to wear and tear. Consequently, for both MFi and non-MFi third-party cables, the disparity in price often stems from differences in materials and craftsmanship. Superior data cables usually employ enhanced materials for the internal cores and better interference protection, aiming to guarantee both optimal performance and longevity.
From the plethora of Apple Lightning cable manufacturers, we narrowed our selection down to 10 based on their e-commerce sales performance. Our primary criterion for selection was the presence or absence of MFi certification. We bought both MFi and non-MFi certified cables of the same brand from brick-and-mortar stores. Including the official Apple cable, we had a total of 13 cables up for evaluation.
For clarity, we labeled the 13 data cables as follows: numbers 1-7 for the MFi-certified Apple Lightning cables, 8 for the authentic Apple cable, and 9-13 for the non-MFi certified versions. In terms of pricing, the cables we picked ranged from USD 1.2 to 15.2, marking a variation of over tenfold. It's notable that all selected cables cost less than Apple's official price of USD 21.99, catering to most consumers' preference for cost-effective data cables.
| | | | | | |
| --- | --- | --- | --- | --- | --- |
| NO. | Photo | MFI or Non-MFI | Material | Length | Selling Price |
| 1 | | MFi | PVC | 1.2M | USD3.98 |
| 2 | | MFi | TPE | 1M | USD6.14 |
| 3 | | MFi | PVC | 1M | USD6.14 |
| 4 | | MFi | Nylon Braid | 1M | USD9.08 |
| 5 | | MFi | Nylon Braid | 1M | USD12.16 |
| 6 | | MFi | Nylon Braid | 1M | USD10.62 |
| 7 | | MFi | Nylon Braid | 0.9M | USD15.23 |
| 8 | | Apple Original | TPE | 0.5M | USD22.93 |
| 9 | | Non-MFi | Nylon Braid | 1M | USD1.22 |
| 10 | | Non-MFi | PVC | 2M | USD1.53 |
| 11 | | Non-MFi | TPE | 1M | USD1.54 |
| 12 | | Non-MFi | PVC | 1.5M | USD4.93 |
| 13 | | Non-MFi | Nylon Braid | 1.8M | USD4.93 |
The price is based on the price at the time of purchase, and the current market sales price will fluctuate.
Assessing the Quality of a Data Cable:
How do we determine if a data cable is of good quality? Firstly, it should provide a smooth user experience. Secondly, it should be durable. By combining these assessments with its price, one can conclude whether the cable offers good value for money. In this evaluation, our first concern is its usability.
What do we test?
1、MFi certification test
The MFi-certified cables on the market are marked with the certification logo on the packaging, but if the actual product is really MFi cables are required to pass the verification.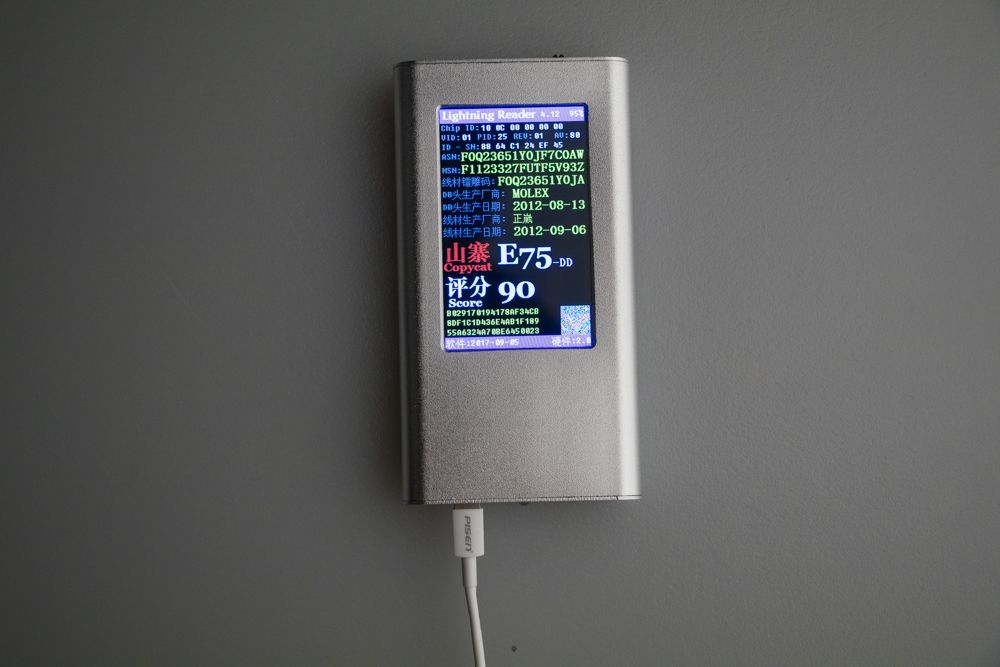 We examined 13 data cables using the Apple Lightning cable identifier. It supports Apple data cable, charging cable, single head identification. It supports MFi certified original data cable and copied high imitation data cable, and can identify the scheme used by the chip as well as the manufacturer.
2、Charging speed
There are two functions of the data cable, the most commonly used is charging, so the charging speed is a very critical judging point. We have monitored the voltage and current as well as the stability of 13 data cables.
Higher current can get faster-charging speed, and the stability of voltage and current is important to protect the phone's a power management IC, battery and circuitry, and other components. Charging current more stable data cable indicating that its chip, materials, better quality, less likely to burn your phone, or to avoid short circuit and other accidents.
For this test, we used the original iPad 12W wall charger and iPad mini2, which supports 2A fast charging, as the load device. The charging head supports output of 5.2V/2.4A. The voltage and current data were recorded by connecting the Power Z KM001 USB test meter.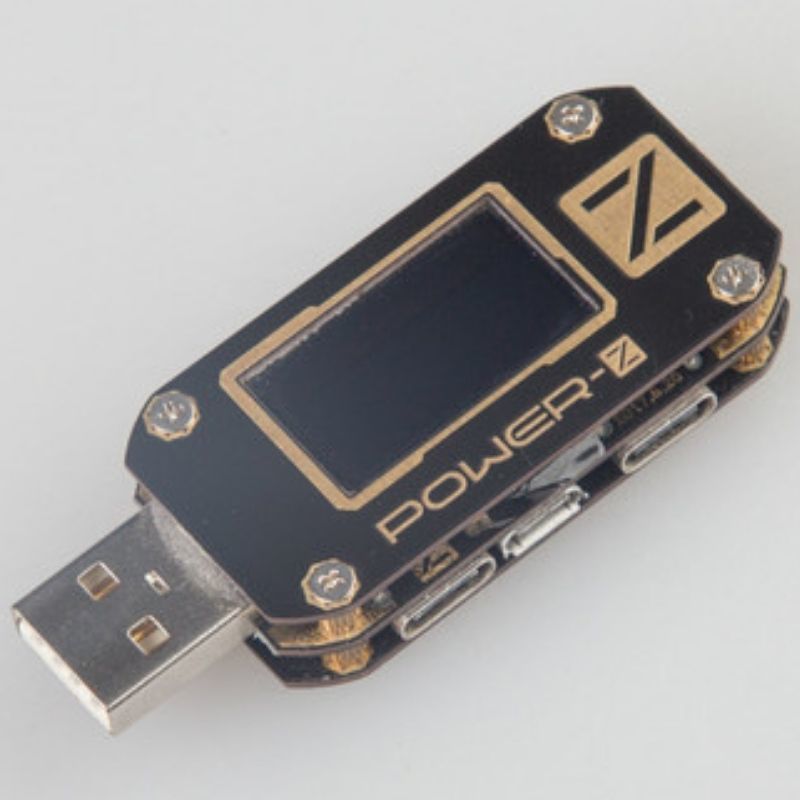 This USB test meter is a compact but powerful test meter from a company that focuses on charging and supports a wide range of charging protocols and physical interfaces.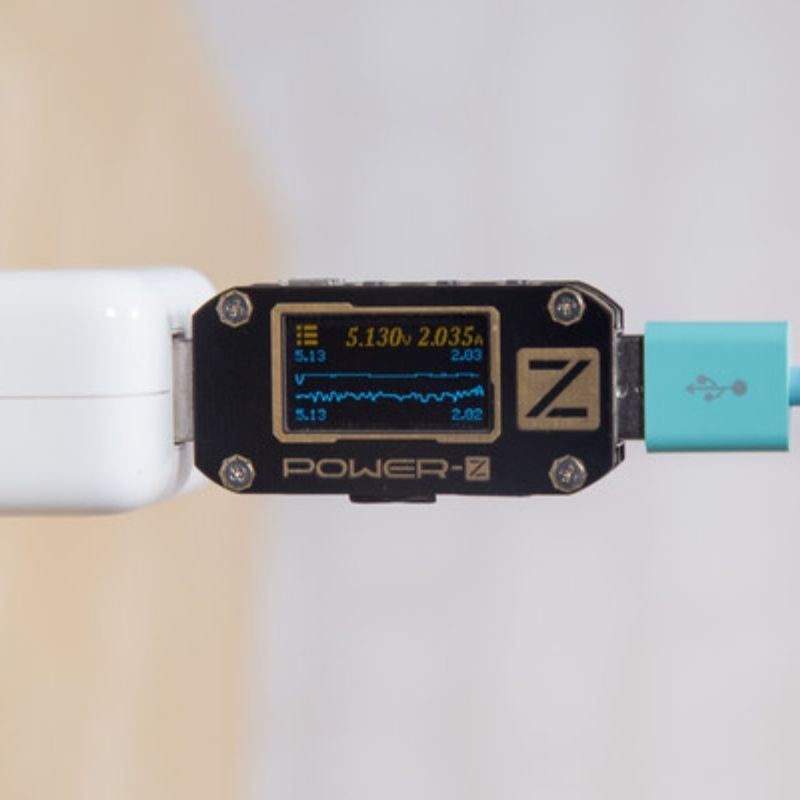 We connected the plug-in board, charging head, KM001, data cable, and iPad Mini 2 in turn. After powering on, KM001 can display the current-voltage and current data and the waveform graph of the two data in real-time during charging. After 30 seconds of power on, we record the voltage, current, and waveform in steady-state and calculate the charging power data.
3、Data transfer speed
When Apple devices are connected to a computer for data transfer, the speed is often related to the data cable and whether it will be interrupted in the middle. We recorded the time required to transfer a fixed-size file to determine the data transfer performance of different data cables.
What are the results of the test?
Are there any false marks on the MFi certified cables?
The data measured by the Lightning cable identifier includes whether the chip is MFi certified, and only certified products will show original, while non-MFi certified products will show copycat. The test showed a product that showed Taiwan, which was actually the same result of a high imitation chip.
E75 C48 and C89 are all MFi hardware solutions. Most of Apple's original cables use the E75 solution, while C48 and C89 are mostly solutions with authorized MFi chips. Both programs are MFi certified chip solutions. However, if the word copycat is displayed on the screen, it means that the E75, C48, or C89 solution with the cracked chip is used, which is not MFi certified.
The score shown is a rating of the Lightning cable identifier for the cable of the data cable, which is actually for reference only and is not used as a comparison item here.
We have extracted the key data into the following table for your convenience.
| | | | |
| --- | --- | --- | --- |
| No. | Picture | Chip Type | Chip Solution |
| 1 | | Copycat | E75 |
| 2 | | Original | C48 |
| 3 | | Taiwan Foxconn | C48 |
| 4 | | Orignal | C48 |
| 5 | | Original | C48 |
| 6 | | Original | C48 |
| 7 | | Original | C48 |
| 8 | | Original | E75 |
| 9 | | Copycat | E75 |
| 10 | | Copycat | E75 |
| 11 | | Copycat | E75 |
| 12 | | Copycat | E75 |
| 13 | | Copycat | E75 |
The results of the test are indeed a bit surprising, 1 and 3 samples are marked on the product page and packaging with the MFi certification logo, but the actual test results show that the two are non-MFi certified products, most likely false label products. Of course, the test results are only responsible for the samples, whether the real or fake chips are mixed, we can not verify one by one.
In addition to the 1, 3 samples, the rest of the data line test results and product labeling is not different. It is worth mentioning that the No. 1 and 3 data lines are priced at $3.98 and $6.14 respectively, the cheapest of the samples we purchased with MFi certification, it seems that the price is too low for the certification line we need to keep an eye on.
Does the MFi certified cable charge faster?
For the charging test, we recorded the voltage, current, and waveform data of 13 data cables under stable charging conditions.



To facilitate the comparison of the data, we have organized the voltage and current data into power data and come up with the following comparison chart. Since the voltage and current change from time to time, the data in the table below is for reference only.
| | | |
| --- | --- | --- |
| Cable No. | Cable Type | Charging Output (W) |
| 5 | MFI Certified | 10.571 |
| 6 | MFI Certified | 10.544 |
| 2 | MFi Certified | 10.542 |
| 7 | MFi Certified | 10.533 |
| 3 | Non-MFi Certified | 10.524 |
| 8 | Apple Original | 10.522 |
| 12 | Non-MFi Certified | 10.508 |
| 9 | Non-MFi Certified | 10.476 |
| 10 | Non-MFi Certified | 10.440 |
| 11 | Non-MFi Certified | 10.440 |
| 4 | MFi Certified | 10.418 |
| 1 | Non-MFi Certified | 10.255 |
| 13 | Non-MFi Certified | 9.020 |
Charging speed estimation results
The results obtained from the actual calculation, except for sample #13, the charging power of all the other samples differed very little, indicating that there is no significant difference in charging speed whether the MFi certified cable. The power of sample 13 is significantly smaller than the other samples, and the charging speed will be slower.
This is the result measured using the iPad mini that supports 2A fast charging, if using these cables to charge the iPhone, the current will be relatively lower, the difference in charging speed will be even smaller. So for charging speed, we can tentatively assume that market for non-MFi certified cables, there is also no limit to the peak charging.
Is There a Significant Disparity in Data Transfer Rates?
We approached the data transfer test with a commonly held belief: MFi-certified cables are the only ones guaranteed to connect seamlessly to computers and support system upgrades without hitches. Conversely, non-MFi certified cables are often believed to be prone to connection issues and may not recognize or support system upgrades.
To test this, we meticulously tested all 13 data cables using an iPhone 8 Plus updated to the latest iOS11.1. This included testing both ends of the Lightning connectors. The outcome was unanimous: each cable facilitated proper connections, allowing data to be both uploaded and downloaded.
The observed performance of non-MFi certified cables can be attributed to their use of "cracked" chips, which essentially deceive Apple devices to enable data transfers. Since the introduction of iOS7, Apple has relaxed restrictions on non-MFi accessories, meaning most contemporary non-MFi certified cables can connect to devices and computers without any issues.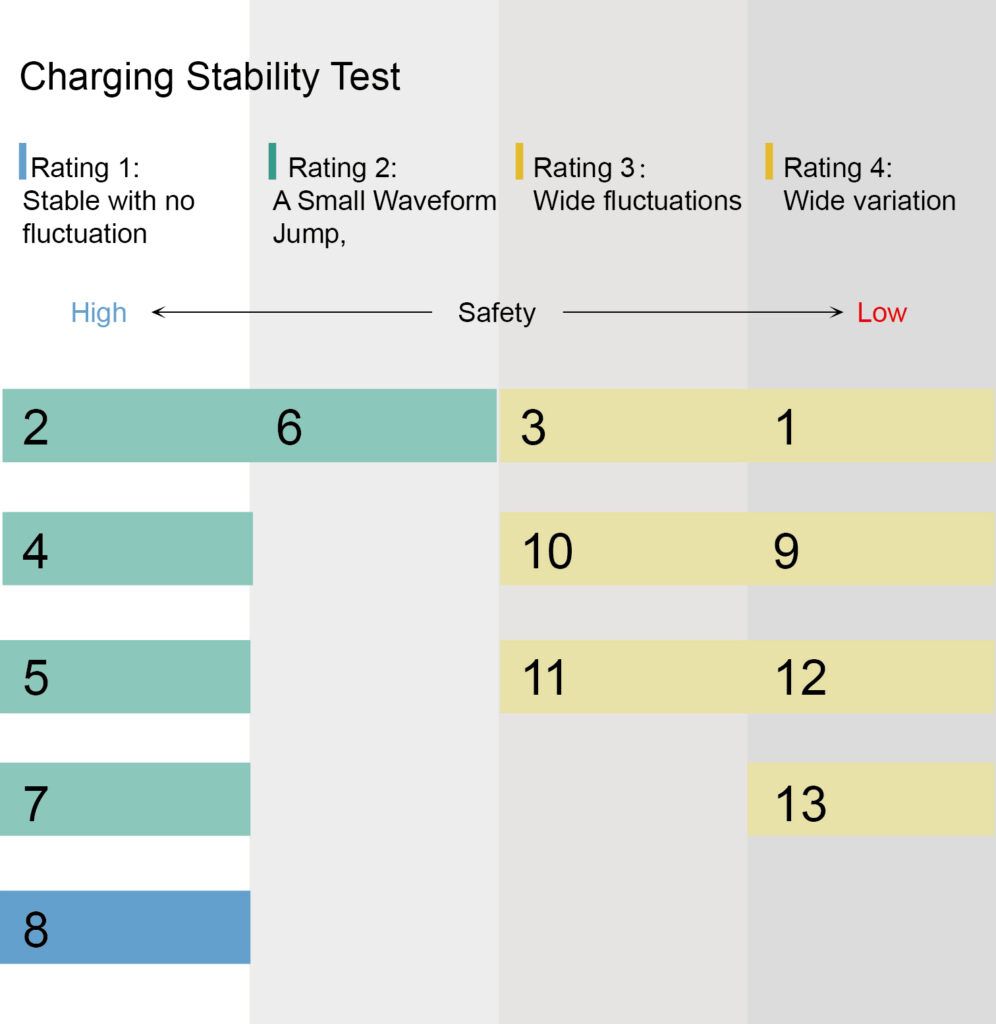 Among them, samples 2, 4, 5, 6, 7, and 8 meet the requirements regardless of voltage or current stability, of which samples 2, 4, 5, 7, and 8 have received a level 1 rating for both data, with excellent charging stability.
The rest of the products with large current fluctuations are MFi certified tests for non-MFi certified data cables. This is corroborated by the fact that MFi-certified cables provide better protection for the device.
It is worth noting that the quality of the original Apple charger is very high, if you use a copycat charger, the charging current fluctuations in the above test will only be further amplified, which may cause excessive charging power resulting in heat, or even burn the phone.
As the saying goes, a good horse with a good saddle, even if you buy a good data cable, it is best to match the quality of the charger.
Is there a big difference in file transfer?
Is the data transfer restricted for the non-MFi certified cable?
File Transfer Speed Insights
The results from our tests indicate consistent file transfer speeds across the 13 samples. While sample No. 9 exhibited slightly slower speeds, the difference was marginal. However, a word of caution: while MFi-certified cables and their non-certified counterparts might have comparable speeds in large file transfers, the latter can sometimes display unstable currents during data transfer. This instability can result in data loss, potentially leading to incomplete backups or backup failures. Hence, opting for an MFi-certified cable remains a prudent choice.
2、How is the transfer speed?
We used iPhone 8 Plus with MacBook Pro 2016 15-inch version for file transfer speed test, the transfer software is iTunes, the transfer file size is 1.72GB. 5 times of writing and deleting steps were repeated for each data cable, and the writing time was recorded with a stopwatch, and the average of the 5 test results was taken.
Data Transfer Speed Test
| | | |
| --- | --- | --- |
| Cable No. | Cable Type | Transfer Speed (second) |
| 8 | Apple Original | 56.710 |
| 12 | Non-MFi | 56.740 |
| 3 | Non-MFi | 56.820 |
| 5 | MFi Certified | 57.030 |
| 11 | Non-MFi | 57.130 |
| 1 | Non-MFi | 57.270 |
| 13 | Non-MFi | 57.300 |
| 10 | Non-MFi | 57.300 |
| 7 | MFi Certified | 57.310 |
| 4 | MFi Certified | 57.740 |
| 6 | MFi Certified | 57.840 |
| 2 | MFi Certified | 57.910 |
| 9 | Non-MFi | 59.530 |
The test results are not surprising, 13 samples are very close to the file transfer speed, only No. 9 sample is a little slower, but the gap is actually very small. Here we also want to remind you that although the MFi certification cables and the copycat cables in the large file read and write speed is comparable, but some of the poor quality of the copycat cables in the process of transferring data current will also be unstable, prone to data loss phenomenon, when the backup phone may be missing files and lead to backup failure, therefore, the choice of MFi certification cable is still necessary.
Summary of test results
From our comprehensive three-fold testing, the performance variations between MFi-certified and non-MFi-certified cables become apparent.
For everyday tasks like charging and data transmission, non-MFi-certified cables are surprisingly on par with their MFi-certified counterparts. The primary concern, however, lies in the inconsistent current stability of non-MFi cables. This unpredictability might compromise device charging. The situation could worsen with unstable voltage or the use of subpar chargers. Moreover, Apple's warranty does not cover damages stemming from the use of non-MFi certified accessories.
In contrast, MFi-certified cables consistently deliver stable performance across all tested metrics. Plus, Apple acknowledges damages incurred from MFi-certified accessory usage in their warranty, offering users an added layer of device protection. This assurance makes the MFi certification not just a label, but a genuine mark of quality and reliability.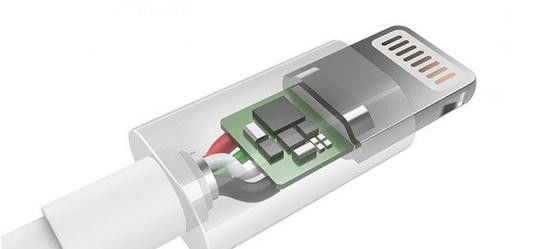 Guidance on Purchasing Apple Data Cables
Our comprehensive tests have yielded a key takeaway: always prioritize MFi-certified cables. Beyond the potential quality disparities associated with varying price points, choosing an MFi-certified cable ensures you protect your device from irreparable damage.
Beware of cost-cutting temptations. While genuine MFi-certified cables come with a recognizable logo, some manufacturers might use misleading terms like "Apple-certified cable" or "compatible with Apple iOS10, iOS11" to confuse customers. If the cable doesn't explicitly display the MFi logo, be skeptical.
On the topic of affordability, be cautious of ultra-cheap cables that claim to have MFi certification. They might just be wolfing under sheep's clothing. Remember, authentic MFi certification entails a fee payable to Apple, which naturally inflates the cable's price. Thus, extremely cheap cables claiming MFi certification should raise eyebrows.
We suggest investing in MFi-certified data cables priced above $6.5. Such products typically guarantee superior performance, quality, and even outlast the original Apple cables in terms of durability.
For those interested in accessing detailed brand models and original test data, kindly reach out via email, and we'll gladly share the relevant information.